Opatija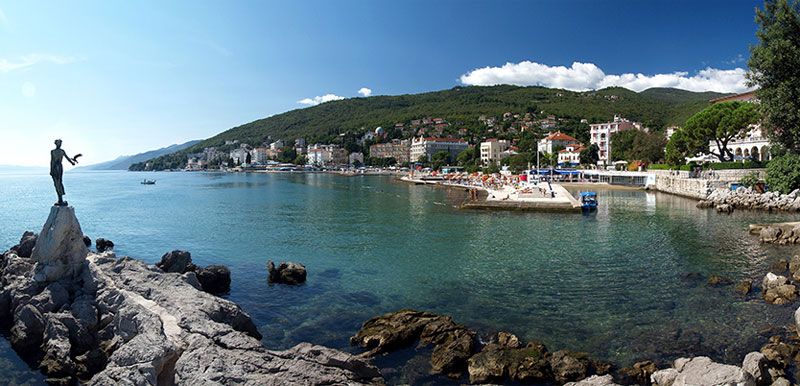 "The First Lady", "Pearl of the Adriatic","Sankt Jakobi", "Abbazia", "Old dame", "Queen of Tourism"– these are just a some of the names given to Opatija. Guarded by a backdrop of densely-wooded hills, it sits where the Istrian peninsula joins the Kvarner Riviera.
Escaping Vienna's winter chill, the Hapsburg nobility of the Austro-Hungarian Empire set the fashion more then 160 years ago. Drawn by the mild microclimate, Opatija's glittering guest list included crowned heads, composers, novelists, and other celebrities of the day. They flocked here to take in the sea air, revive their health in hot baths, cold baths, and the sanatorium; and to dance or gamble until dawn. Other distinguished visitors included Chekhov, Puccini, and Gustav Mahler - who came to convalesce here after a case of tonsillitis. James Joyce regularly took tea on the Hotel Imperial's terrace. Isadora Duncan danced to the swaying fronds of a palm tree outside her balcony in the Villa Amalia, an annex of today's Hotel Kvarner.
The ideal way to work up an appetite for a leisurely al fresco lunch is a walk along Opatija's promenade-the Lungomare, much of its length shaded by chestnut and laurel trees. Handily placed benches invite you to sit and contemplate the Adriatic where the islands of Cres and Krk loom in the shimmering blue of Kvarner bay.

Opatija retains an air of dowager duchess opulence: grand hotels with crystal chandelier ballrooms; Viennese-style pastries slathered in cream; visitors sporting old-fashioned finery. Its beauty and elegance are passed on to each guest, and many tourists keep returning every year for the rest of their lives, claiming that they simply feel wonderful in this place of elegance, wellness and natural beauty.
Accommodation in Opatija: