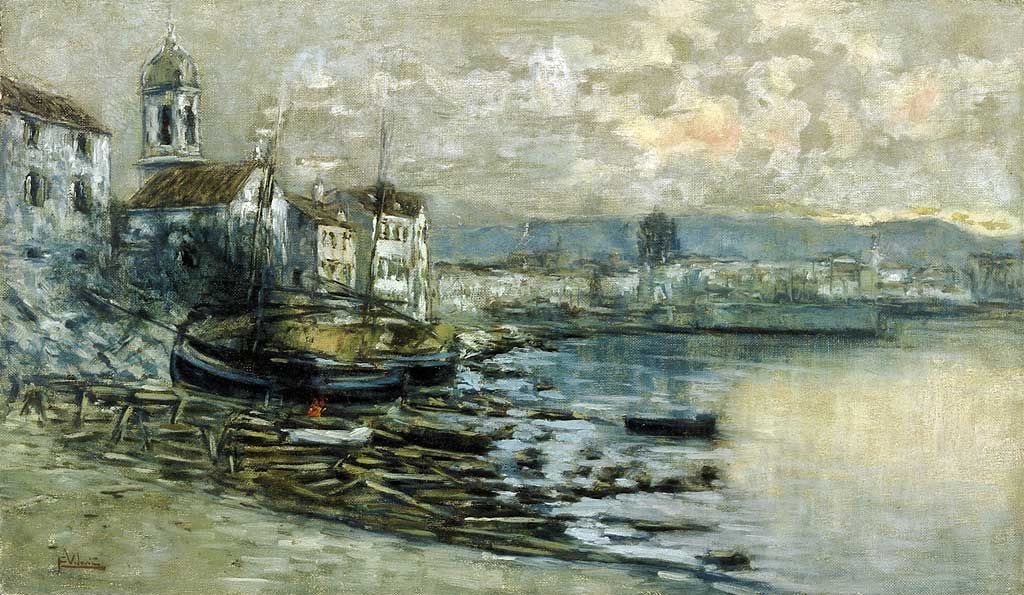 Exhibition Emanuel Vidovic @ OPATIJA
30.4.2009. - 31.5.2009.
Art pavilion "Juraj Šporer", Opatija
Organized by the Croatian Museum of Tourism in Art pavilion "Juraj Sporer" in Opatija, Croatia on Thursday, April 30th 2009. in 8 p.m. is opened exhibition of Emanuel Vidovic, one of the most important painter of Croatian art history.
Entry: FREE, open every day except Mondays from 10:00 to 18:00
Emanuel Božidar Vidović was born in Split on December 24, 1870. He spent his childhood in the old ambiences of Split and Trogir. There he got his first impressions that greatly influenced his later work. Before turning seventeen , in 1987, he enrolled at Academia di Belle Arti in Venice. He painted Venice , Milan and Chioggia, inspired for a while by Segantini's divisionism technique. His paintings of that time, especially numerous Chioggia's channel motifs, range from lyric, twilight atmosphere to bright, colourfull landscape and seascape studies.
Having returned to Split, Vidović joined the circle of painters, writers and critics, who, being under influence of the Modern art, put particular emphasise on the lyric and symbolic elements of art. In Split and its surroundings Vidović made many studies and sketches in plein-air, working with bright colours under immediate impression of the live landscape. Later, in his atelier, when transferring these initial and fresh impressions on large canvases, Vidović wrapped them up in a hazy and semi-dark veil, thus creating lyric and often symbolic atmosphere. Although his palette i.e. his paintings were getting ever darker, many of these paintings boast exceptional quality of particular strength and originality. On these few, brighter and warmly coloured sections of the large, dark paintings Vidović succeeded in creating intensive luminous and colourfull effects. Vidović also took an active part in artistic and cultural life of Split. As the art teacher at the Major Gymnasium and at the School of Decorartive Arts in Split Vidović educated a number of painters of younger generation and proved himself as a worthy pedagogue. Vidović also initiated the founding of the first Croatian Art Society Medulić in 1908.
Since 1930 he paid regular visits to Trogir attracted by the picturesque Trogir motifs and the patina that many years gave to its architecture. At that time he started painting still life, mainly inspired by the ancient sculptures, church objects and antiques his Split atelier was filled with. Later Vidović painted his atelier interiors and still life with fruit, flowers, fish etc., first exhibited in 1929. In close contact with the reality of these objects the literary traces disappeared from his paintings, his palette became brighter, drawings clearer while his longstanding life and artistic experience positively reflected in lyric notes and typical Mediterranean atmosphere. In the second half of his life Vidović entered the contemporary painters' circle with his new works, producing in that period many paintings of increasingly quality.
From 1938 to 1940 Vidović painted the interiors of the churches in Split and Trogir. Towards the end of his life Vidović produced a large cycle of gouaches as reminiscence of Trogir and Split of his childhood. Although he used to destroy many paintings after the exhibitions, a large opus of about thousand oils, gouaches, watercolours, sketches, caricatures, particularly those coming from the last period of his work and life, has been preserved.
Added: 29.04.2009 11:11
Last Modified: 30.04.2009 21:21