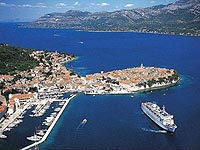 Cruises - Route 3 - ISLAND HOPPING - DALMATIA
Split – Omiš – Korčula – Lastovo – Vela Luka – (Biševo) Vis – Šolta – Split
Cruising with vintage sailing ships along the Dalmatian coastline and islands.
For this trip all you will need is a few T-shirts and a swimming costume to spend seven unforgettable days cruising on the Adriatic Sea from one island to another. Relax and let the captain and his crew (especially the cook) take care of you. During the day you can swim, snorkel, sunbathe, and explore the underworld of the Adriatic Sea. In the evenings you are free to find a good restaurant, discover old churches or other historical monuments on land…
Saturday: SPLIT - OMIŠ
Departure from Split harbor, Saturday at 13:00. After lunch we cruise along the Dalmatian coast down to Omiš. We spend the afternoon swimming in the crystal clear sea. Overnight in the port of Omiš, a picturesque town surrounded with steep rocky mountain cliffs, where the river Cetina flows into the Adriatic sea. Afternoon is free to enjoy sports like rafting (join our WHITE WATER rafting excursion) on the streams of the Cetina river, free mountain climbing, windsurfing or beach volleyball. Those not feeling "sporty" can explore the old town of Omiš and discover the glorious and long history through the many historical monuments.
Sunday: OMIŠ- KORČULA
By the time you reach the deck area in the morning, Omiš will already be behind you. After a morning swim, we cruise toward Korčula – the birthplace of Marco Polo. Lunch on board will be served either on the tip of the Pelješac peninsula (near Lovište) or in the quiet bay of Kneža on Korčula. Arrival to Korčula in the afternoon where each person can do their own sightseeing. According to legend Korčula was found by Trojan hero Anthenor in the 12th century BC. On this island you can find more legends, tales and monuments than anywhere else. Overnight in Port.
Monday: KORČULA - LASTOVO
As a prelude to more cruising we suggest a short walk through the open market in Korčula where you can buy fresh fruit to enjoy during the day. We continue our cruise towards Lastovo, the furthest, inhabited island in Dalmatia. Docked in port of Ubla, one has the opportunity to discover the virgin nature, thick and wild woods of this island. Lastovo is surrounded by many smaller islands, with plenty of bays suitable for snorkeling. Lastovo is also known for many little churches and unusual chimneys.
Tuesday: LASTOVO – VELA LUKA
We leave Lastovo in the morning and cruise back towards island Korčula but this time the port of Vela Luka. Lunch and swimming in a bay along the way. Spend the evening tasting some of the well-known Korčula wines and listening to sounds of traditional men's singing groups (KLAPA).
Wednesday: VELA LUKA – VIS (Biševo)
Early in the morning we depart toward island Vis, which was closed for many years to tourists. Vis was, because of it unique geographical position, a strategic harbour for the navy. Because of this isolation Vis has a special charm of the 'Mediterranean as it once was' which makes it really interesting to see. Near to Vis there is Biševo and the famous Blue Caves. One can visit the Blue Caves by taking a little boat (payment on spot 7 to 8 EUR per person). As sometimes weather conditions can be very unpredictable, the possibility and time of your visit will depend on the conditions, however you will be notified about this by your captain/crew. There will be plenty time for swimming. After Biševo - arrival in Vis in the afternoon where we spend the night. It was Vis (Issa) where the Greeks had their first colony in the 4th century.
Thursday: VIS – ŠOLTA
Early in the morning we cruise toward the beautiful Šolta island, which, luckily, is not yet overcrowded by too many inhabitants or new buildings. Šolta is well known for its excellent, dark olive oil and lovely little fisherman ports. In one of such villages – Stomorska – we spend the night and have the opportunity to enjoy excellent fresh fish and other delicacies of this unique island.
Friday: ŠOLTA - SPLIT
The last day is spend mostly swimming in different bays on the island Šolta or the neighboring island of Brač – before we return to Split. We continue cruising while enjoying the view of Split Riviera arriving in Split in the late afternoon. Possibility to join our guided tour of Split with an English speaking guide. Split is a monumental city under UNESCO protection that belongs not only to Croatians, but also to you, as it is a part of the world heritage. Here we find an abundance of Roman architecture – of special interest is the Deocletian palace.
Saturday: SPLIT
Early breakfast after which it is time to say goodbye to the crew and all your new friends!
---

top